We build the tools to help you run and track your business operations effectively.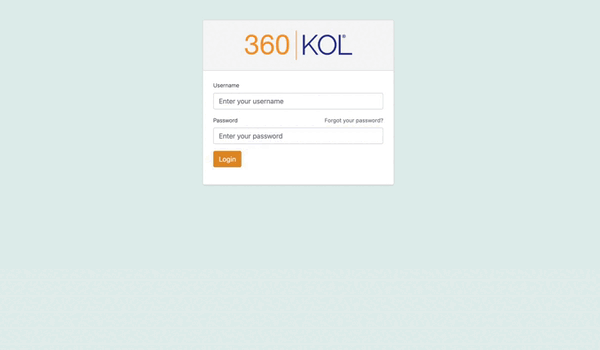 360|CONNEX® is our proprietary digital engagement platform that streamlines and organizes your brand's interactions. Based on your needs, we have a whole suite of offerings that provide connection in meaningful ways. From KOL profiling, scoring and scheduling to advanced performance analytics—we have you covered.
Engagement Management—Simplified
Manage all your KOL profiles and engagements from one easy-to-use platform. The 360 | Connex Platform provides a customizable solution for collecting, organizing, and analyzing all your KOL data. Maximizing all engagements that are aligned with your strategy. This powerful tool pulls data from numerous sources, including publications, social media activity, affiliations, and professional networks to provide unprecedented insights and scoring on your KOL's impact on your business. The 360 | Connex portal makes management and measurement of KOL engagement activities intuitive and simple for your clinical field teams.  The platform includes advanced analytics features, powered by artificial intelligence, that dynamically scores the knowledge levels, engagement power and ultimately quantifies the real impact of individual KOLs on your business.
Congress Management—Streamlined
The 360 | Connex platform provides a comprehensive engagement planning and management solution. This centralized resource allows for an organized and well-orchestrated congress experience. The platform works seamlessly align individual KOLs with specific congresses. This includes scheduling and financial management features to make all your congress activities successful, from initial engagement through post-event follow-up.
Evolving Conversational Data Analysis to Support HCP Decision-Making
Advanced analytics combined with machine-learning, data-scraping technologies give us the ability to analyze, measure, and predict specific HCP, patient, and consumer opinions, behaviors, and intentions. 360 | Dialogue gives brand teams the ability to understand the impact of content and identify knowledge gaps. Key topics are identified and tracked across a range of social media platforms, including comments made on posts and publications. The data collected can then be integrated with other analytics reporting. All data are published in customizable and easy-to-understand dashboards.
Logic-Forward Content Management
Pharmaceutical brands have always struggled with managing their speaker presentations to ensure adherence to regulatory demands. Once presentations are disseminated to your KOLs, control is lost. Our 360 | Library houses all of your speaker decks in a centralized repository further enhanced by your unique business rules for presentation. All presentations are "locked" in different combinations of regulatory/safety slides, ensuring that each and every presentation delivered is always in the correct sequence and in compliance. This cloud-based application makes releasing your content easy and secure.
360 | Connex - Collaboration®
Foster Ownership, Community Participation, and Authenticity
Organizing and managing speaker feedback on presentations has never been easier. 360 | Collaboration allows speakers the tools to share their thoughts and opinions with the brand and other speakers. This interactive environment quickly enhances presentations by pulling from the real-world experience of the speakers and allows for constructive debate on the nuances of your clinical presentations.
Interested in learning more?
Fill out the information below—to start a conversation, request a demo, or get a quote.